We are thrilled to announce that our 8-12 grade youth program will be transitioning to become a part of BBYO.
BBYO is an international Jewish teen youth movement focused on engaging more Jewish teens in a meaningful way. BBYO provides students in grades 8-12 with fun, meaningful and affordable experiences that inspire inclusivity, Jewish identity, active leadership and tradition.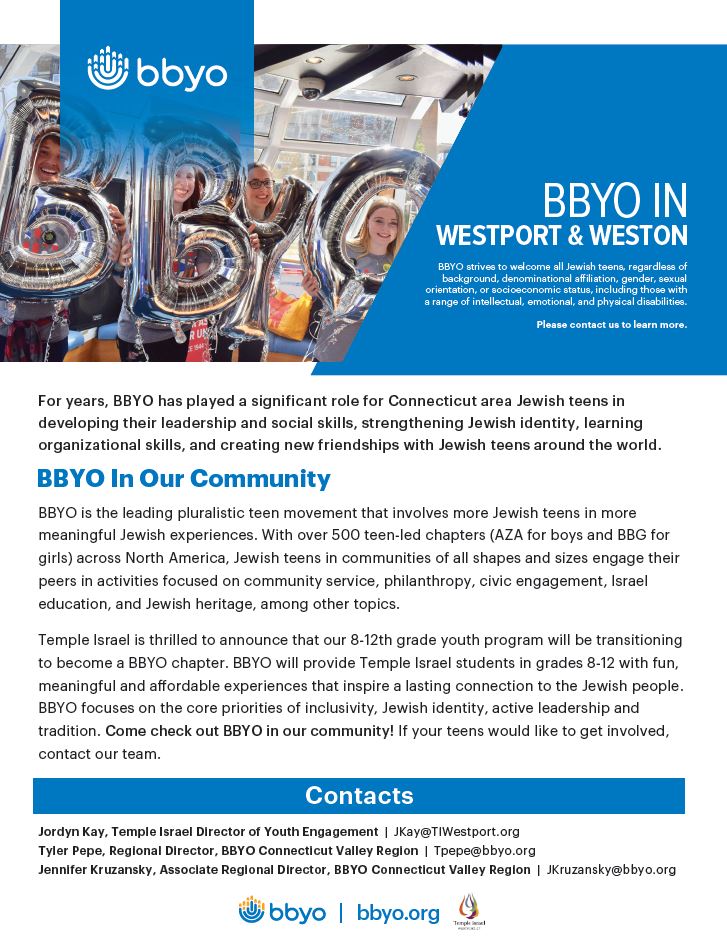 Click here to view the PDF.
Sign up  now to become a BBYO member.

---
 Upcoming Events

Passover Beautification Project
Wednesday, April 24th
Join us at Temple Israel as we do a little spring gardening and spruce up the grounds! Enjoy some Passover snacks and planting.   
Full Court for Kindness
Sunday, April 28th at 6pm-9pm
Join Temple Israel as the fill the basketball court for kindness. Temple Israel/Yofi BBYO will participate in this interfaith basketball tournament designed to raise money for the charity of our choosing. Don't miss out on this! If you are interested in being on our team, contact Jordyn Kay or Ben Matteson. Come to play or just to watch! This event will take place at the Westport YMCA.
Midnight Run
Friday, May 3rd, 6pm-1am
Join us for one of our favorite teen events of the season. We'll join up with the community on this First Friday and make food, organize clothes, and gather toiletries to pass out to those experiencing homelessness in New York City. Click here to sign up. 
Chapter Elections
Wednesday, May 15th 6:30pm-8pm
Be part of choosing the leaders of your chapter! Join us as we elect our chapter board and you decide who will guide your BBYO experience for the 2019-2020 programming year. You must be a chapter member to vote at elections.
Interested in running for a board position? Contact Jordyn Kay at jkay@tiwestport.org.
---
 For more information about our BBYO program or any of the events contact, Jordyn Kay, Director of Youth Engagement at 203-227-1656 or  jkay@tiwestport.org.
Follow us on Facebook @BBYOatTI or Instragram @yofibbyo5056