The Men's Group provides an authentic environment for members to foster camaraderie, share Jewish values and engage in the community through social, educational, religious and civic activities.
If you are interested in joining the Men's Group, please contact mensgroup@tiwestport.org.
---
Scotch & Sushi in the Sukkah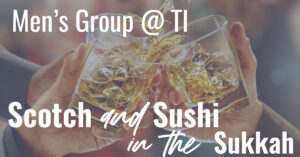 Tues Oct 11 | 7:30p
$30
We'll gather under the sukkah for an evening of delicious sushi, fine scotch, and community.
Register here
Men's Study Group with Rabbi Friedman
An opportunity to explore issues that are important to us: our role at home as a father and a husband, the ethics of being an employer or employee, enacting our values in the world as a Jew and a human being.
---