Teen Collective
Pathways to Jewish Enrichment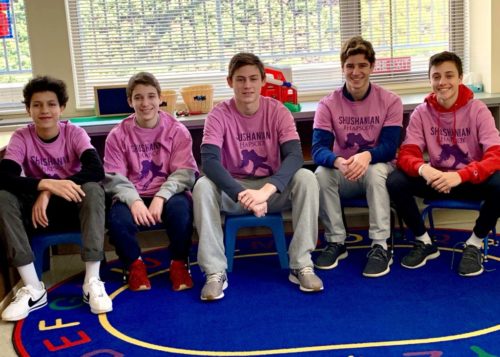 Our Madrichim program provides an opportunity for our teens to integrate into our Religious School as they play an important role in supporting our teachers and inspiring younger students. This program enables teens to remain connected with Temple Israel and the friends they've made here. Madrichim are required to work once a week when school is in session. 
BBYO is the leading pluralistic Jewish youth organization in the world. Joining BBYO allows our teens to engage with their Judaism, grow as leaders, participate in community service, and much more. BBYO programs take place in a casual setting. Activities include: Shabbat dinners, pool parties, ice-skating, and more. All events are designed and run by our teen leadership board. Students meet monthly.
Our Social Justice pathway gives teens a unique opportunity to help repair the world, while learning about relevant local and global social issues. Through hands-on volunteer projects, students immerse themselves in issues about the environment, climate change, immigration and more. Teens may also participate in the L'taken Social Justice Seminar and a Tikkun Olam trip to help a community in need. Students meet twice monthly on a Sunday and Monday.
Merkaz, our local community Jewish High School in Fairfield, provides a meaningful and relevant Jewish education to our community teens. The program builds character, positive values, leadership, a strong Jewish identity, and creates a sense of commitment to Judaism. This program meets from 6:50-9p every Tuesday in Bridgeport. Mercaz will provide a free bus from the exit 42 Park & Ride.
The TI Clergy note: "One of the best parts of our job is spending quality time with our Grade 10 students as they prepare for the milestone of Confirmation. We're introducing some big changes this year to make it easier than ever for teens to participate."  
This program meets twice a month on Tuesdays from 6-8. 
Contact Rabbi Danny Moss with Confirmation questions:
203.227.1293 | dmoss@tiwestport.org
Your opinions are important to us. Whether it is a simple question or a valuable suggestion, we are here for you. You can call us by phone or email us directly.
Rabbi Educator Elana Nemitoff-Bresler