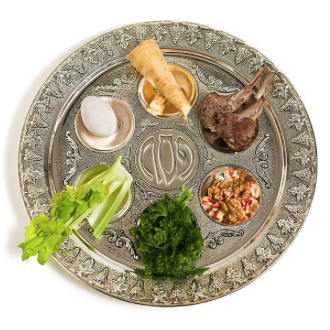 Passover is a time to create memories and celebrate traditions. This year, we are providing resources to help with your own family seder, and to assist you in preparing your family to be "together" during this time of physical separation: three seders, two cooking classes for your family to participate in with our congregation, tips for a successful virtual seder, online haggadah options, and catering menus from local vendors.
Seder Setup

Here are some tips to help you create a memorable seder:

Young children
Have each be responsible for presenting a plague, or draw what freedom means to them.

Older children
Have them draw/write how are they oppressed and what would they do to get rid of that oppression, or make a playlist of songs to represent the 4 children of the seder (Learn about the 4 children here).

Craft your Table
Guests can make their own seder table decor:  seder plate, matzah cover, afikomen bag, Elijah/Miriam's cup.

Hide the Afikomen
Sneak the Afikomen in a word search, or a "Where's Waldo" type hunt.
Please contact Rabbi NB with any questions about seder activities. email >>
Choose an Online Haggadah


For Everyone

Jewbelong Haggadah is family friendly and easy to use. Includes transliteration and some good modern readings!
Passover Haggadah includes resources for the whole family. A Reform seder.

Young Families
Escape Room Seder requires some set up, but is fun!
Passover Puppet Haggadah includes all the parts, but also cool puppets.
A Visual seder is for families who need to see what is going to happen when. This is also great for special needs families.
The Hamilton Haggadah is complete with a soundtrack and appropriate for K-6, and up.
Families with Older Relatives
A Virtual Haggadah is a ritual-based Haggadah, with all the options for a virtual seder and with readings/allusions to the current situation with Covid-19 in our world.

Quick Seder
10 Minute Haggadah is quick and easy. 

For Those Who Like to Learn
Pardes Seder Companion is for those who want to add additional learning to their seder.
Velveteen Rabbi's Seder has readings and poems.
Feel free to choose and copy different pages or readings from different haggadot, as they may speak to a particular need you have this year.