Join Rabbi Friedman as he facilitates a conversation with a person of impact in our community. Guests will be artists, politicians, community leaders, scholars, experts in key fields, and much more. Each conversation begins with a series of questions for our guest. Subsequently all participants will have a chance to ask questions of their own via a moderated chat feature. It is our hope that each conversation will help us gain new perspectives and better understand our complex and ever-changing world.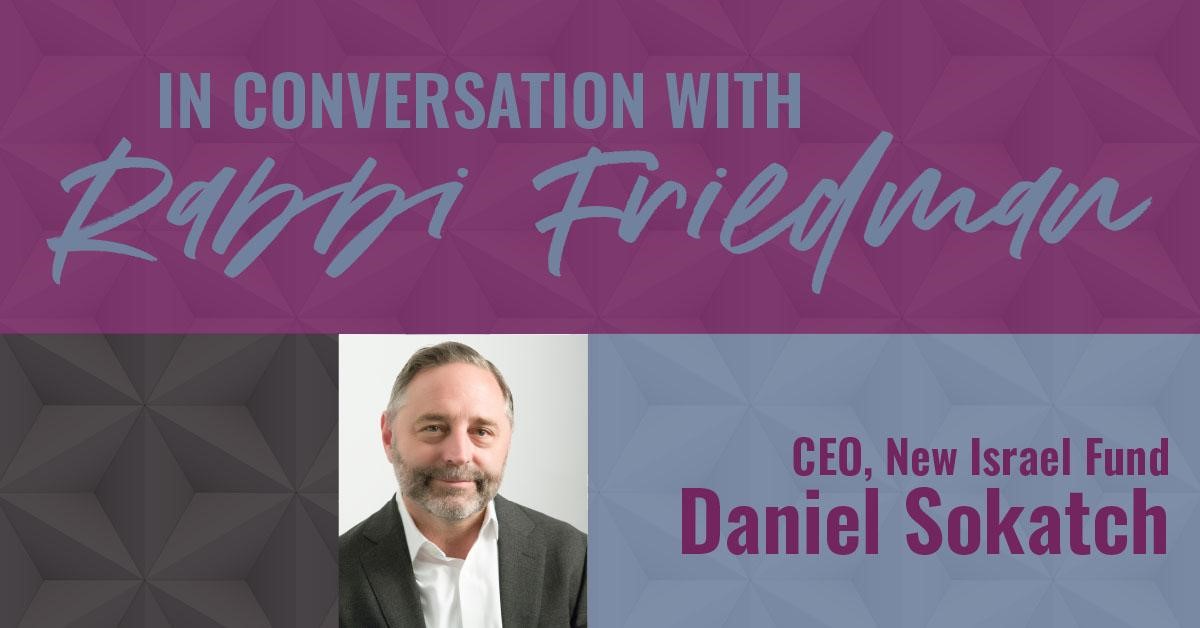 Mon, Apr 12 | 7:30p
Rabbi Friedman and Rabbi Wiederhorn from TCS will engage in conversation with Daniel Sokatch of the New Israel Fund in preparation for Yom Ha'atzmaut, Israel's Independence Day. NIF helps Israel live up to its founders' vision of a society that ensures justice, democracy and equality to all its inhabitants. NIF aims to actualize the vision of a Jewish and democratic state that, in the words of the Declaration of Independence, "ensures complete equality of social and political rights to all its inhabitants irrespective of religion, race or sex." Through the founding, funding and advocacy of more than 800 organizations that comprise Israel's civil society, NIF has become the leading organization advancing democracy and equality in Israel, while fighting the inequality, injustice and extremism that diminish Israel.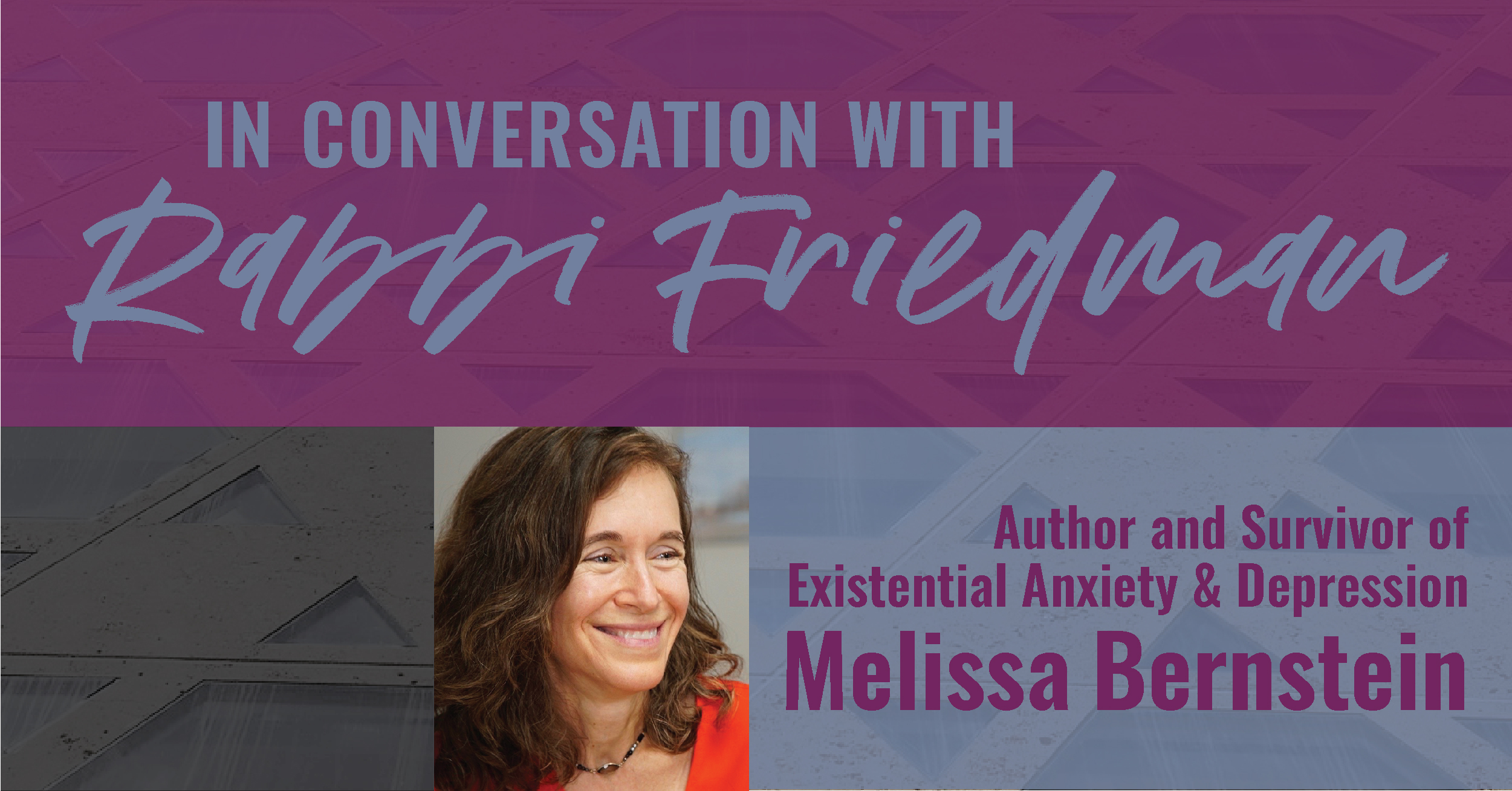 Mon Feb 8 | 8p
Melissa Bernstein and her husband Doug were married at Temple Israel, all six of their children have become b'nei mitzvah here, and they are co-founders of the toy company Melissa & Doug. Most recently, Melissa is the author of her first book Lifelines, which reveals her struggles with depression and anxiety. We will delve into Melissa's journey of self-discovery and her mission to help others on their path inward so they too can transform darkness into light.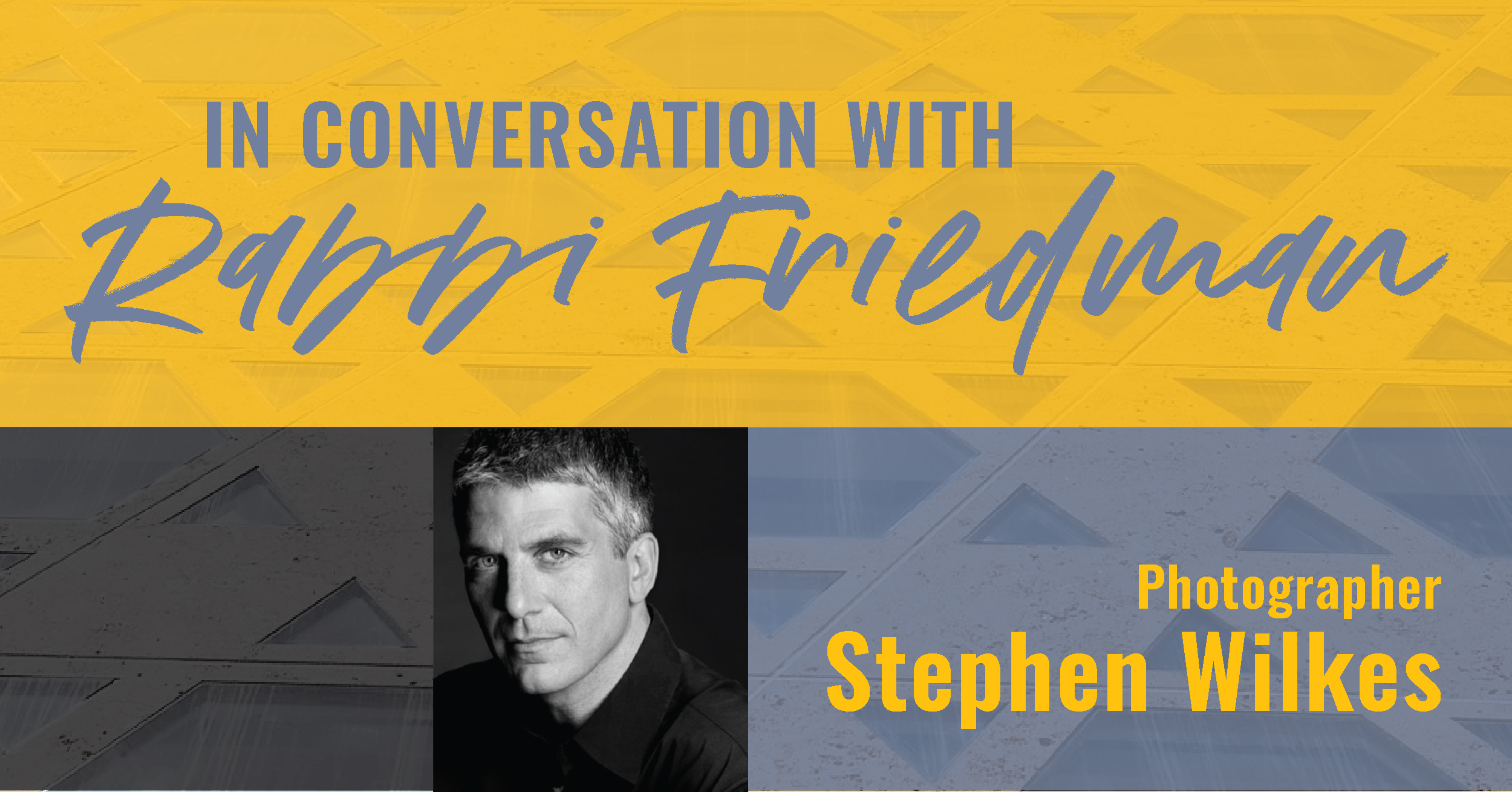 In this first episode of "In Conversation with Rabbi Friedman", Stephen & Bette Wilkes will discuss the process by which he crafts Day To Night pieces and the significance of his Western Wall image in particular.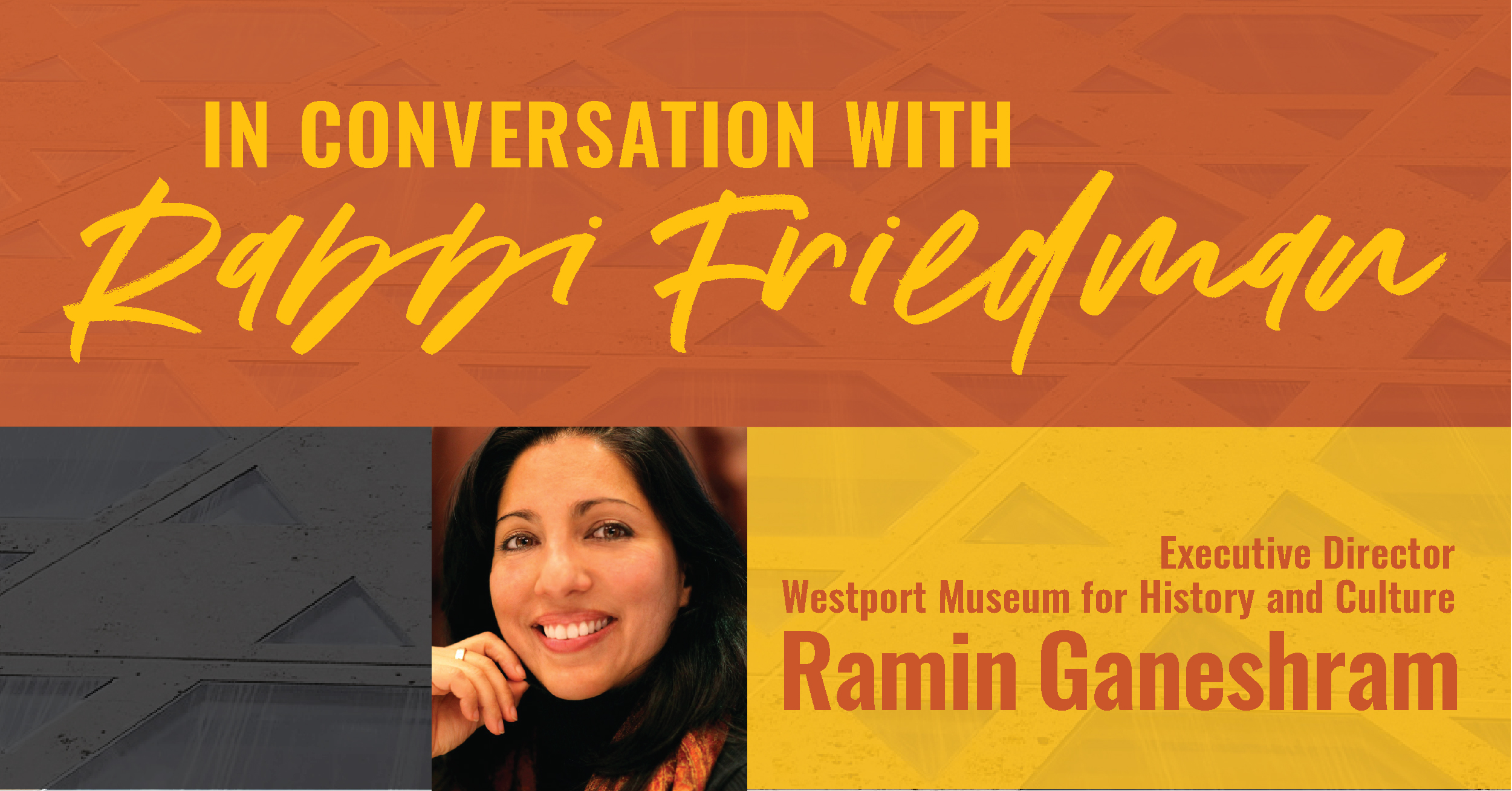 Mon Nov 16 | 12:00p
Under Ramin Ganeshram's leadership, WMHC has prioritized to highlighting stories about our community's past that have not previously been told. We will engage on the nature of history, and on how reframing our history can be an act of courage and justice.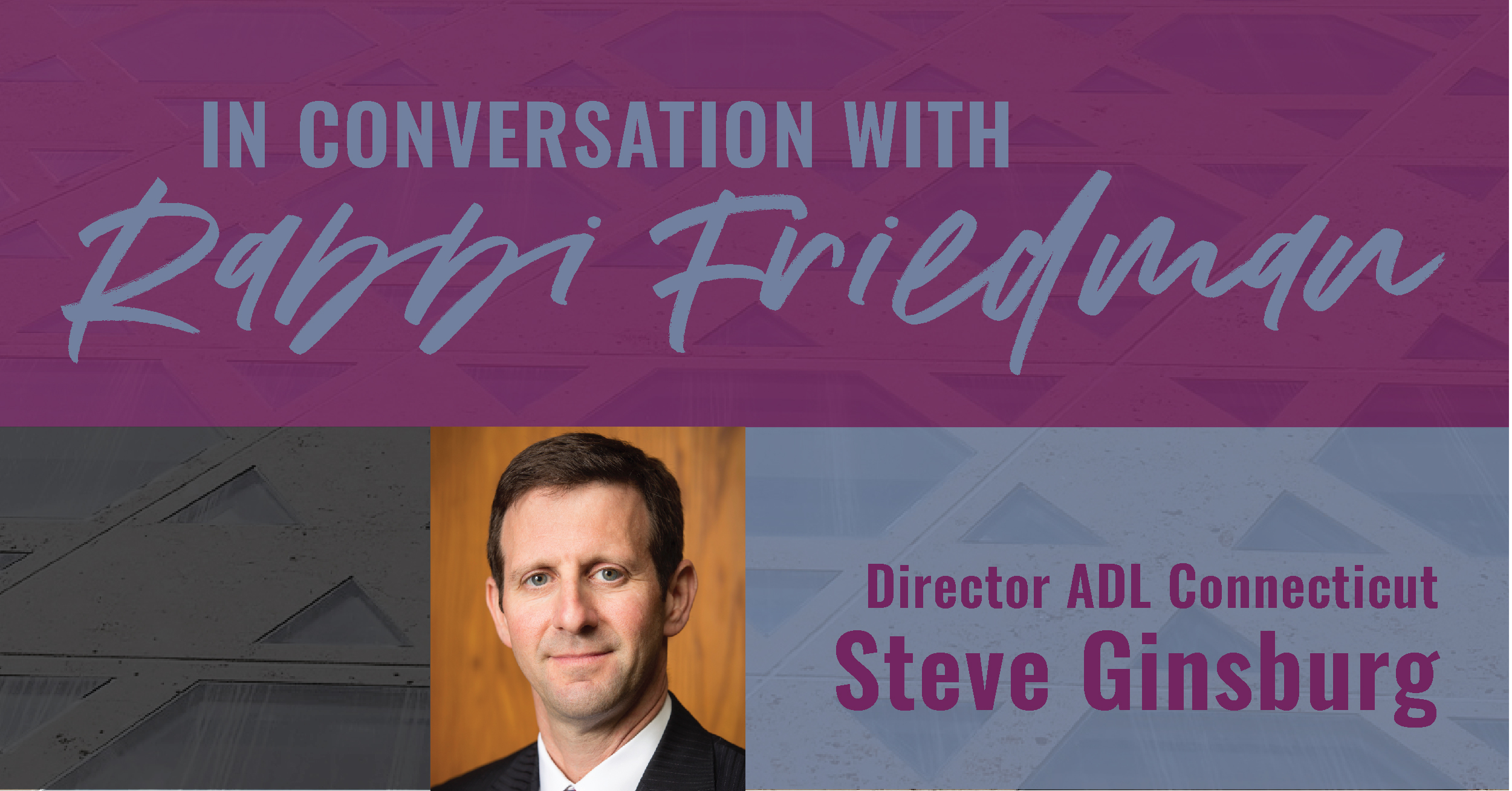 The ADL has led the fight against antisemitism and bigotry
for well over a century. Together we will explore the nature
of antisemitism today on both the political right and the
political left.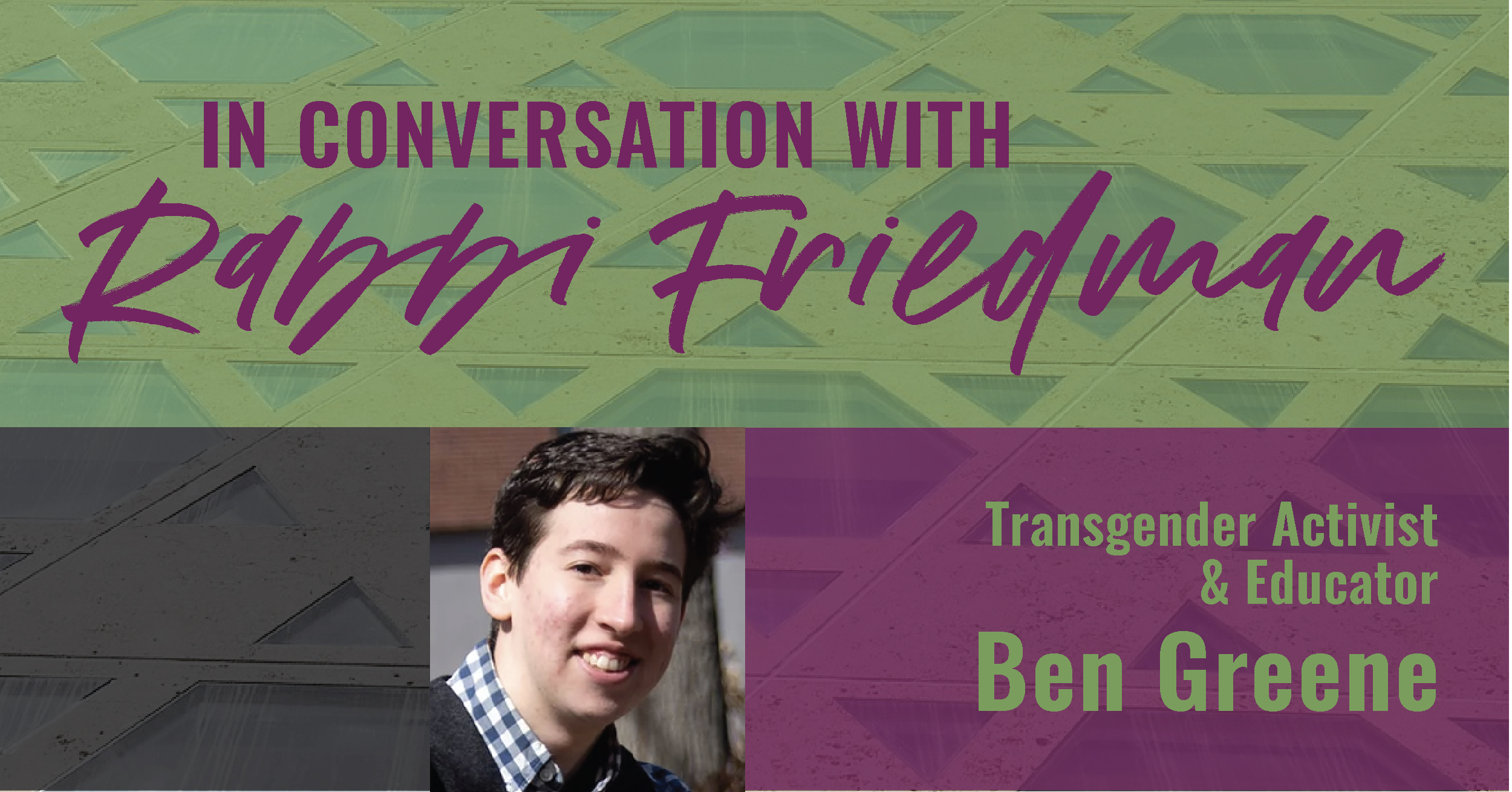 Ben grew up at TI and is now a leading educator in the field of transgender education and inclusion. He will help us understand the newest frontiers in the effort for LBGTQ inclusion, ongoing legal threats to LGBTQ rights, the movement for pronoun identification, and much more.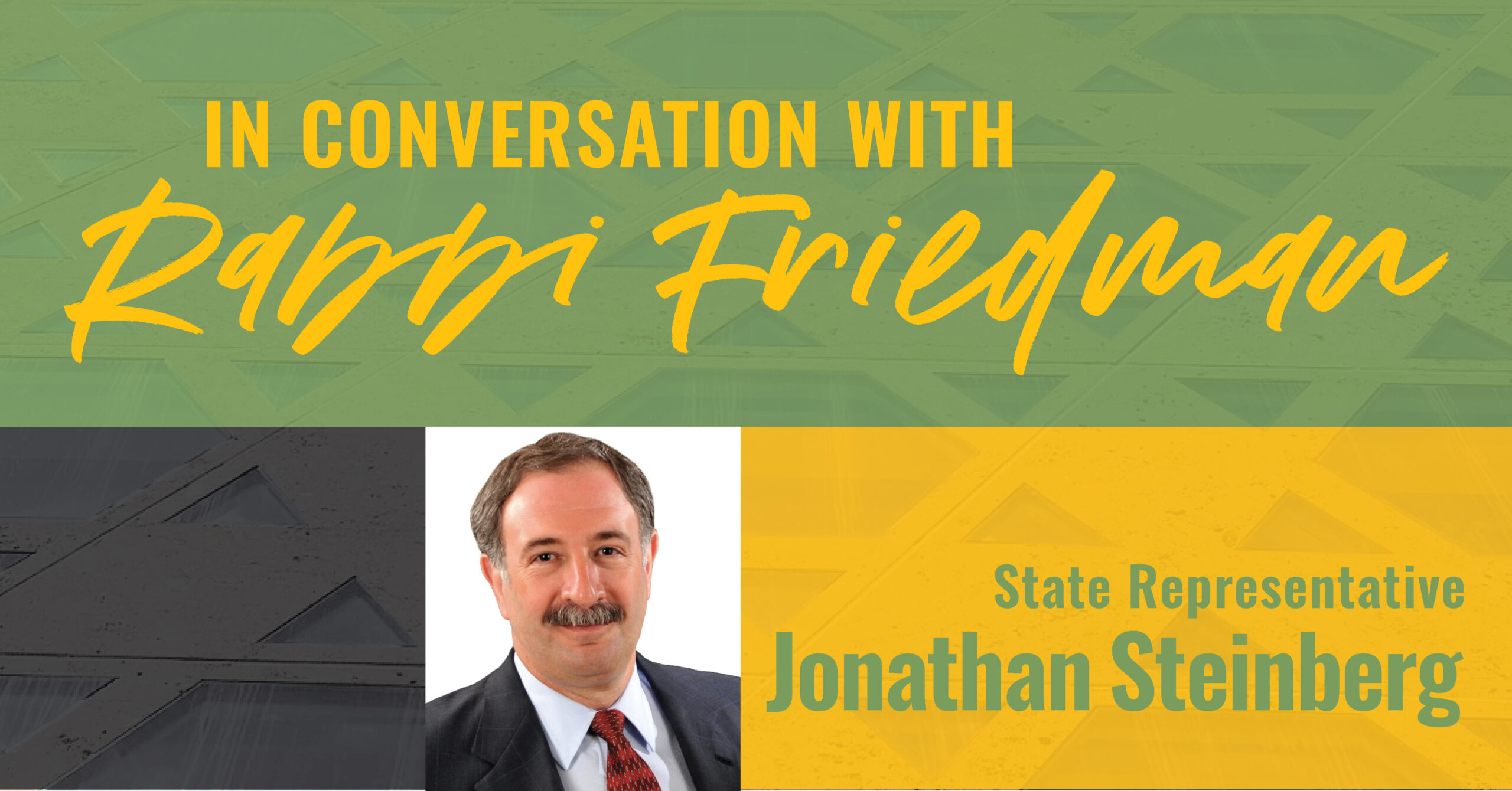 Mon Dec 14 | 8:00p

Jonathan Steinberg grew up at Temple Israel; he and his family have been members since 1997. Jonathan was recently elected to his sixth term as State Representative for the 136th District, which covers most of Westport. We will touch on some of Rep. Steinberg's top legislative priorities: CT's response to the Covid-19 pandemic, transportation, energy policy, and more.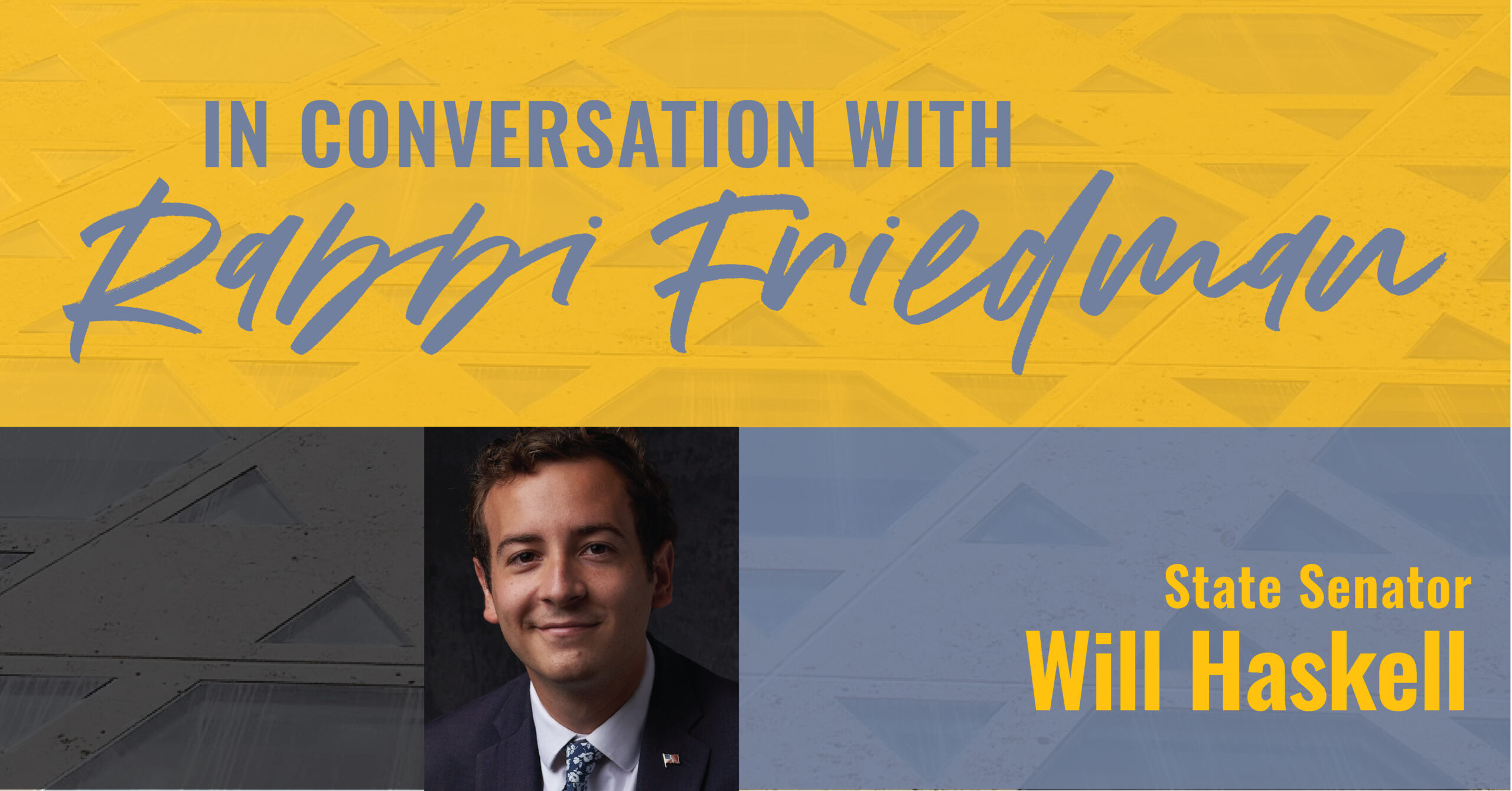 State Senator Will Haskell will join us to discuss issues on the table in Hartford. We will engage on topics of current interest such as school regionalization, gun control, and Connecticut's fiscal health.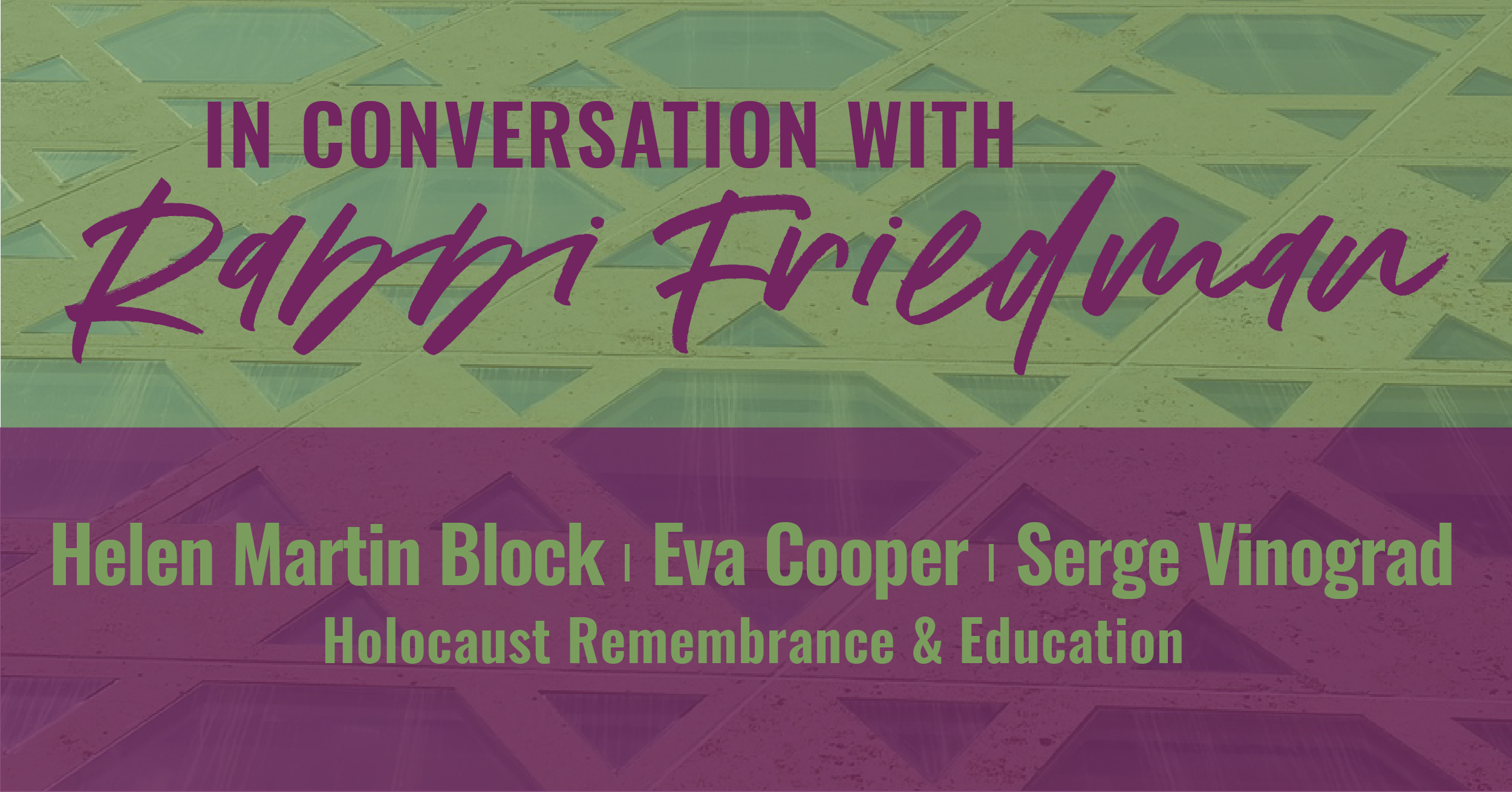 Serge and Eva will share their own narratives of Holocaust survival, and Helen will share her parents' narratives of Holocaust survival, as we delve into the sacred responsibility to share stories and educate future generations.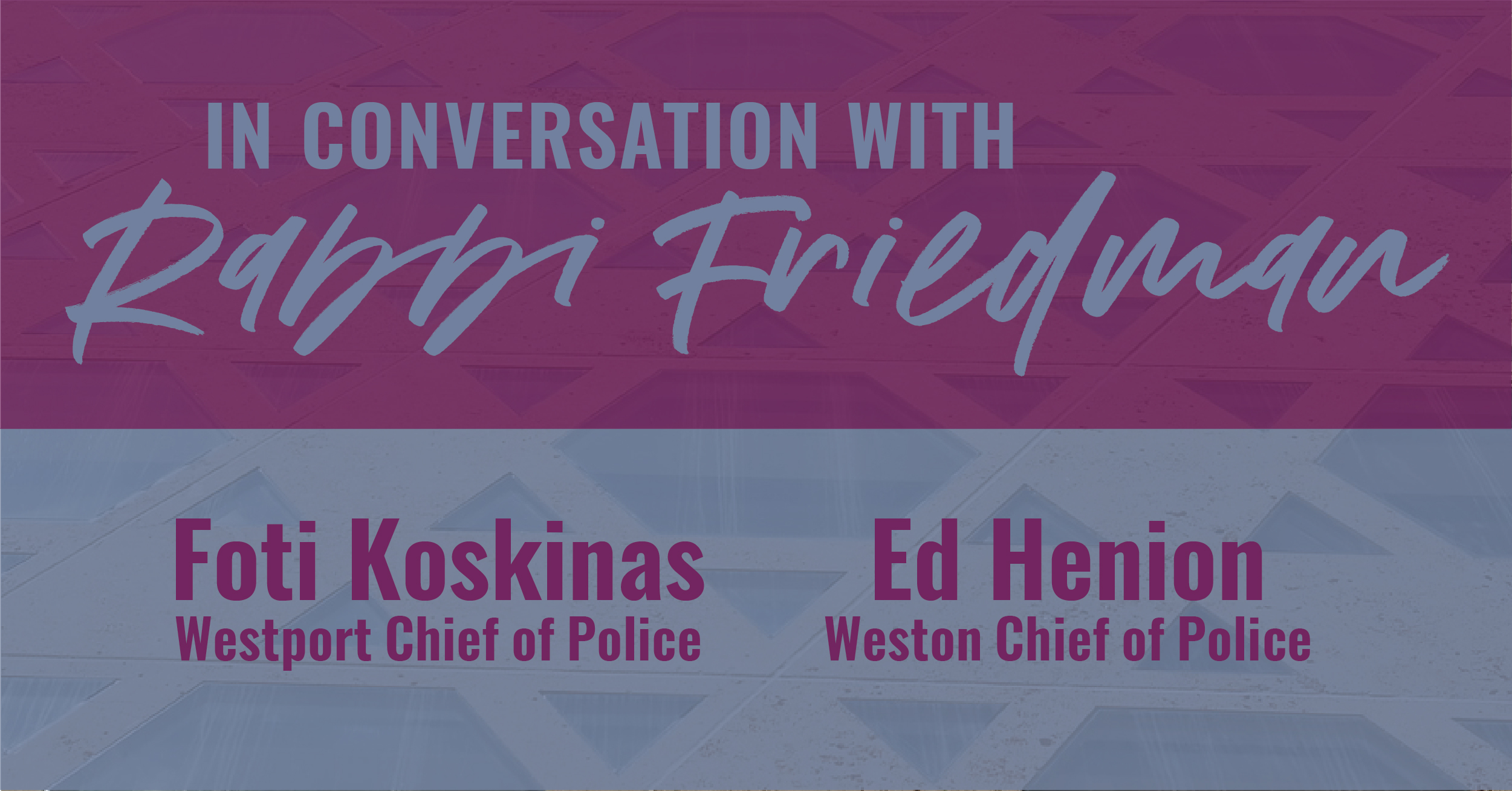 Tues Jan 12 | 8p

Rabbi Friedman and Rev. Morehouse of the Unitarian Church in Westport will moderate conversation with the Chiefs of our two local police departments. At a time when so many are working for racial justice, the focus of this evening will be on ensuring that the values of our communities are reflected in the way our communities are policed.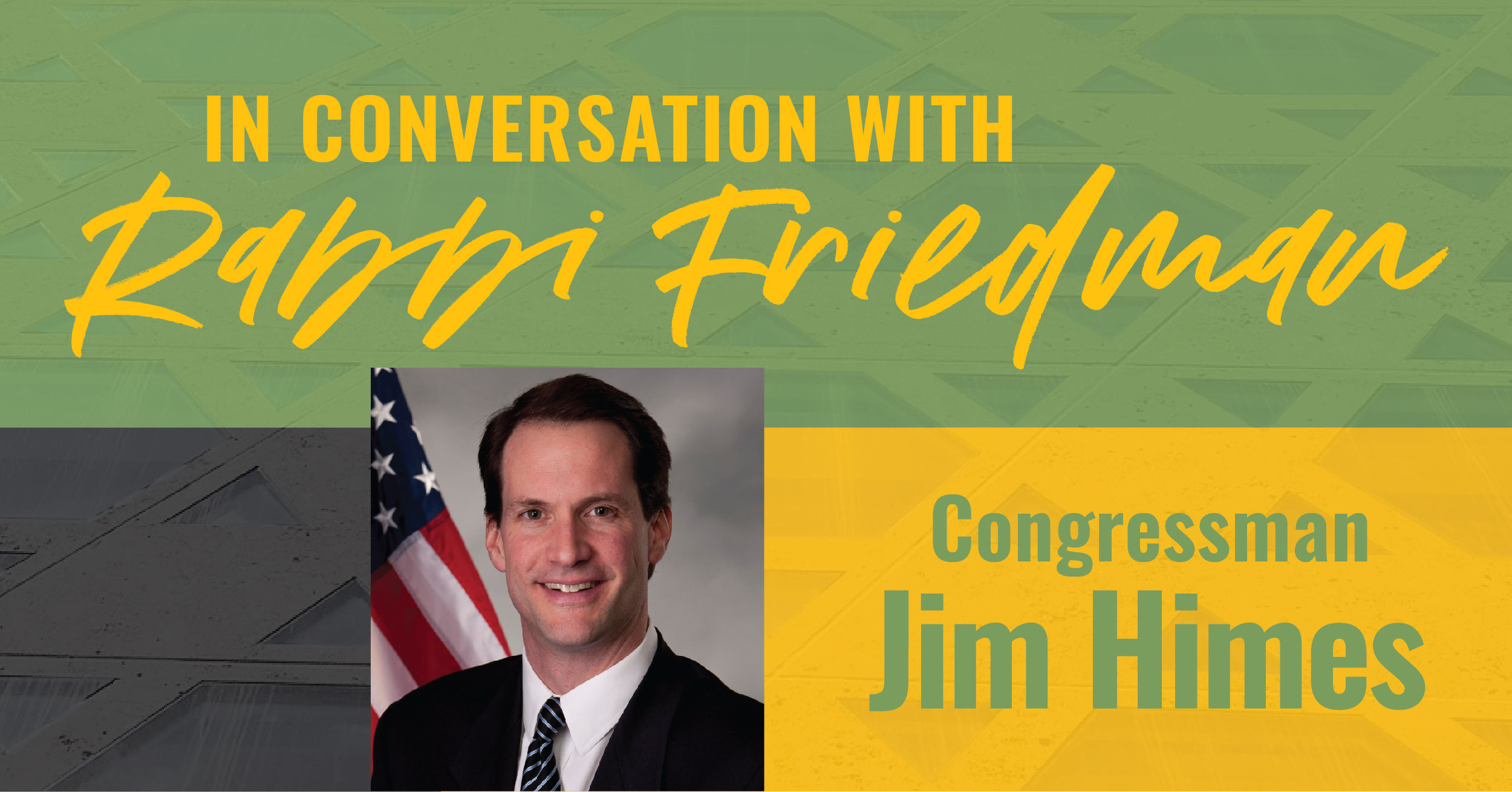 Sun Jan 17 | 1p
As we are still shaken by last week's events at the Capitol, and as we look ahead to next week's inauguration, we have the opportunity to engage this weekend with Rep. Jim Himes. Rabbi Friedman and Rabbi Wiederhorn of The Conservative Synagogue of Westport will moderate this conversation which will touch on topics such as the legislative agenda for a new administration and Congress, our concerns for the current state of political discourse and activism, the future of the Democratic and Republican parties, and more.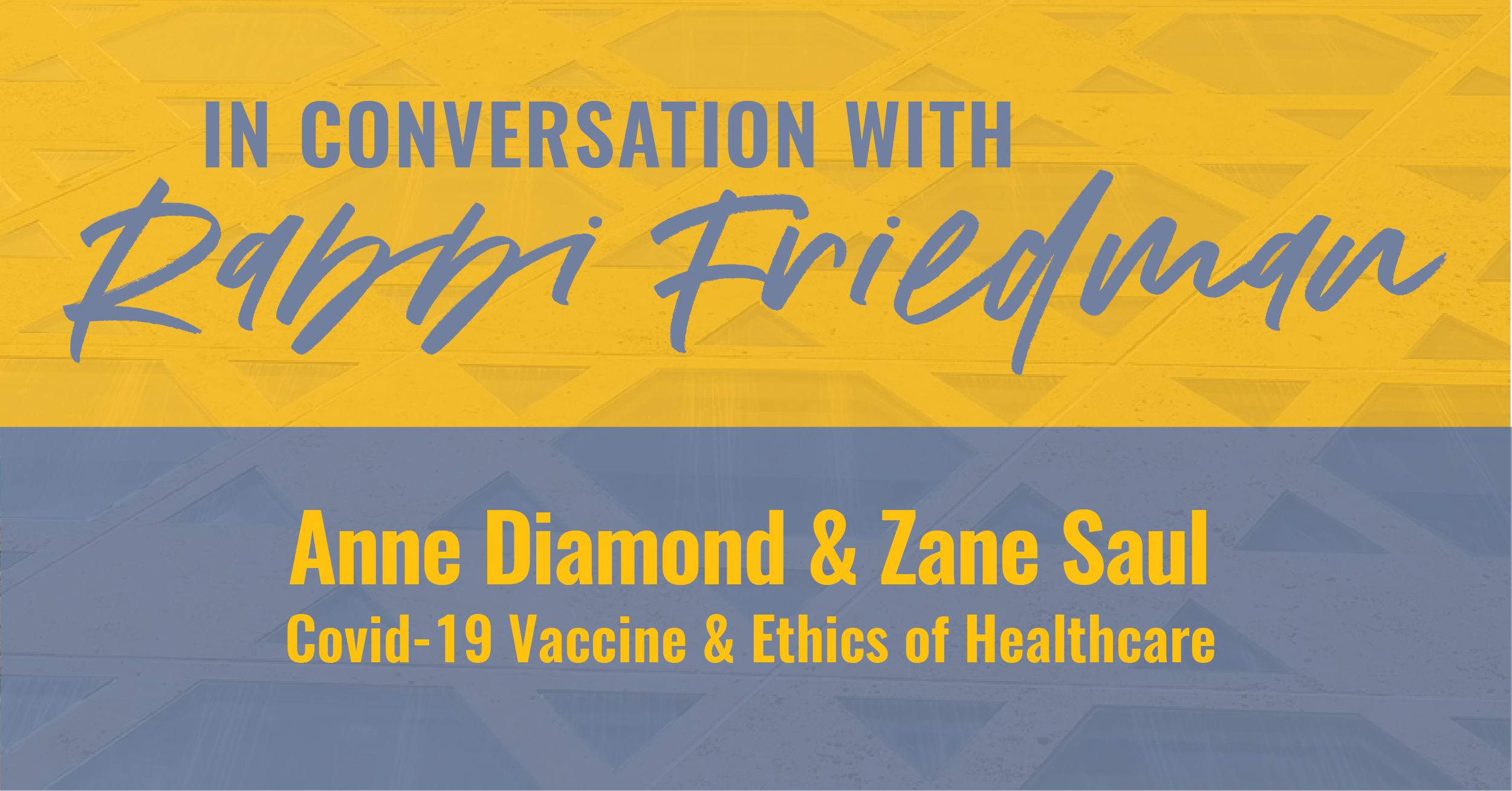 Tues Jan 26 | 8p
The development of the Covid-19 vaccine has given rise to many questions. Anne Diamond, President of Bridgeport Hospital, and Dr. Zane Saul, infectious disease specialist at Bridgeport Hospital — both of whom are members of Temple Israel — will help us explore the changing ethics of healthcare in the current moment, and to gain an understanding about the issues that drive our healthcare system.