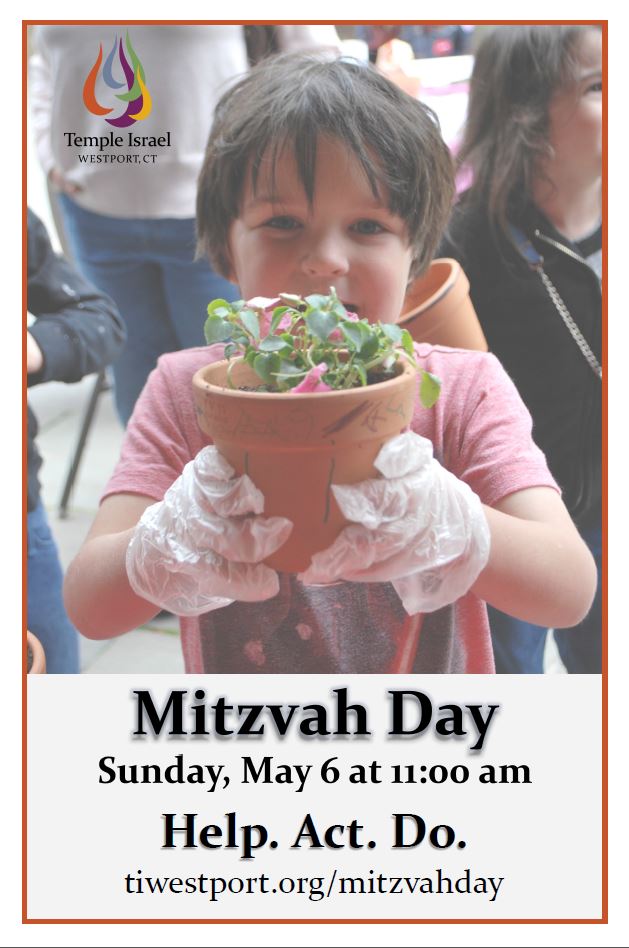 Learn about the many ways that you can participate in Mitzvah Day and renew your commitment to tikkun olam, the act of repairing the world and caring for those in need. All projects will begin at 11:00 am and will take place at Temple Israel. Participants will be invited to choose one, two or however many projects they would like to be a part of.
Mitzvah Day Projects
MAKING A DIFFERENCE IN OUR COMMUNITY:
Support Israeli Soldiers
Let's support our lone IDF soldiers by writing letters and sending photographs. Learn more about IDF soldiers and begin a shared interaction between our religious school students and the Israeli soldiers.
FEEDING THE HUNGRY:
Brown Bag Lunches and Dinners for The Gillespie Center/Homes with Hope
Prepare lunches and lasagna dinners for those in need. Fill and decorate meal bags to add a personal touch.
Meals for the Elderly with Weston Meals on Wheels
Help prepare meals and bake cookies for homebound seniors.
Snack Bags
Assemble brown bag snack packs for students in need in the Bridgeport school system.

KID FRIENDLY PROJECTS:
Artists 4 Israel
Assemble healing bags for Israeli soldiers and families.
Crafts for Al's Angels and Jewish Senior Services
Create placemats, cards and bookmarks for homebound seniors and hospitalized children.
Planters for Senior Buddies at Jewish Senior Services
Decorate and make pots and planters for our friends at Jewish Senior Services.

Tzedakah Box with the Federation for Jewish Philanthropy
You don't need a cape to be a Super Hero! Decorate your very own tzedakah box to take home and fill with change. When it's full, return it to the Federation, who will disseminate the proceeds to over 30 organizations, including: Jewish Family Service, Jewish Senior Services, residential facilities for children in Israel, the ADL, Jewish day schools and camps, organizations that help children with disabilities, and more.
Make a Child's Day Brighter with Al's Angels
Wrap presents and decorate cards for children with pediatric cancer and rare blood disorders.
Colin's Kids
Make blankets for children with congenital heart defects.
Make Emergency Hospital bags for Children
Make Emergency Activity Kits for Children at Local Hospitals
Make Dog Treats & Toys for Paws in Norwalk
ITEMS BEING COLLECTED:
–NEW toys (suitable for 2-11 year olds)
---
Sponsored by the Social Action Committee
If you're interested in leading one of these projects, please contact Allyson Gottlieb at socialaction@tiwestport.org