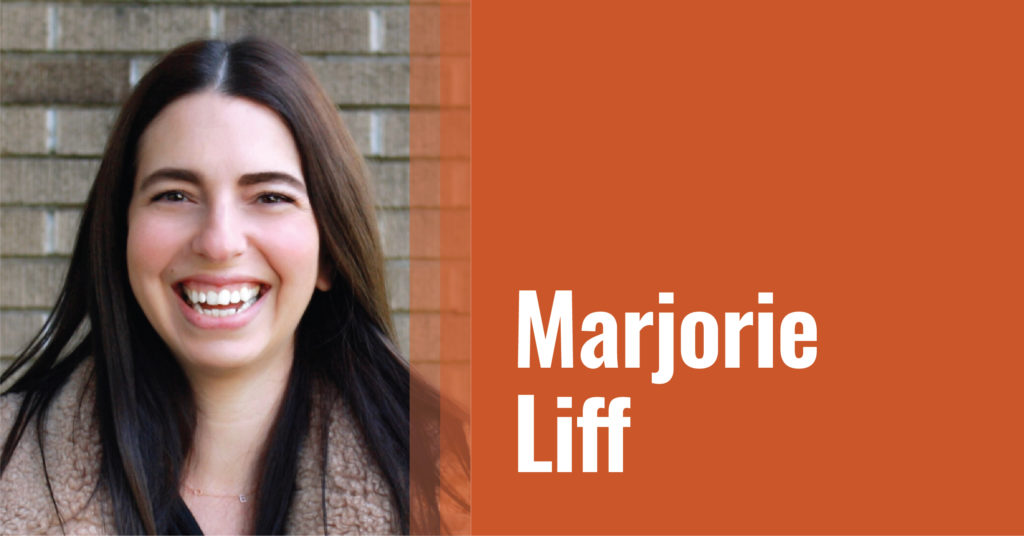 When you meet Marjorie, the odds are she will be smiling.  She is a very chill, laid back woman who makes it all look so easy even with five kids.  Yup, a true "party of five" which includes triplets makes Marjorie the modern supermom. Arriving in Weston nearly a year and a half ago from Miami, Marjorie has found herself at home here and has made some very special friendships within the Temple Israel ECC Community.  Given her expertise at multi-tasking, it's no surprise that Marjorie once had her own organizing business, and she would like to restart that at some point soon.
We had so much fun getting to know Marjorie "behind the scenes" and think you'll enjoy learning some of the cool facts that make her awesome!
We give Marjorie a big thank you for being our very first "Meet A Parent".
You have a real party of 5 (with triplets!) . Introduce us to your crew.
Ruby is 5
Cara is 3 (Cara is currently at TI)
Miles, Evvie and Hudson are 11 months
What has been the most difficult age with your children to date?
What helped you overcome the challenges at that time?
The "threenager" phase is a tough one. We're in the thick of it now with our middle daughter. They are learning boundaries and trying to exert their independence all while testing your patience. I think being patient and having discussions with our kids about those boundaries and explaining what is right and wrong has worked pretty well for us, most of the time.
What is your proudest mommy moment?
My proudest mommy moment is probably carrying the triplets until 35 weeks without any major complications, while managing two toddlers and adjusting everyone to  our new life here.
What's your biggest challenge as a mommy?
My biggest challenge as a mom to 5 is definitely trying to give each child the one on one attention they deserve.
Why did you select Temple Israel ECC?
We selected TI for a few reasons… one was because their teaching philosophy aligns with our goals for our kids. Another was because we want our children to learn about and experience their Jewish culture. One of the main reasons, though, was the warmth and welcomeness I felt from speaking with Nancy on the phone. I immediately felt that our family would fit in here after that initial conversation.
What makes TI special to you and your family?
TI is special because of the community. While we've only been here since summer of 2017, it feels like we've been here forever. We came here from Miami, not really knowing anyone, and everyone welcomed us with open arms and hearts and embraced us immediately. The community has been an amazing support system and I feel like I've made lifelong friends.
Are you a member of Temple Israel?
We joined the temple this year. Our oldest is in kindergarten now and we wanted her to remain connected to her Judaism and the friends she made in the 4s program. She now attends Hebrew school.
Why did you choose this area to live?We moved here because we were looking for a more family friendly atmosphere. We wanted our kids to experience the seasons and have the space to run around and play. We wanted them to get a great education and the Weston school system is amazing. We wanted a community where people help each other and actually care. My husband commutes to the city every day, so we wanted all of these things, while also having a somewhat reasonable commute for him.
Do you currently work outside the home?
I'm currently a SAHM but in my previous life before kids I was an entertainment attorney and then decided to change careers and became a professional organizer.
What was your favorite place to travel and why?
Italy. Food, wine, history, culture. Need I say more?!
If you could be swept away where would it be?
Probably a vineyard in Tuscany, preferably one with a spa, where we could relax and recharge. Life with 5 kids can be stressful and we don't have enough time to take care of ourselves!
What are your favorite places to eat locally with family? With friends?
The kids love the Lunch Box in Weston and Spotted Horse and Black Duck in Westport.
My favorite place is definitely Kawa Ni. Bar Taco is great with or without kids.
What is your favorite activity to go with kids?
The aquarium in Norwalk is a family favorite, so is SplatterBox in westport for my two budding artists.
What was the last movie you saw?
A Star is Born. Amazing!
What do you value most in friends?
Loyalty, humor, common interest, support, humility
What's your perfect day with your family look like?
A delicious brunch, followed by an outdoor activity on a perfect fall day. Maybe a fire and some s'mores later on and everyone in bed on time and without a fight!  Then a good glass of red wine by the fire with my husband and an early bedtime!
What are you most excited about in life right now?
We recently moved, so I'm excited to make this house our forever home. I am never moving again!
What one thing would people be surprised to know about you?
Probably that I used to be a lawyer or for those who don't know, that I have triplets.
If you had one day just for you.. what would that look like?
No laundry. No dishes. No crying kids. A good book and a lounge chair in the warm sun, followed by a trip to the spa.