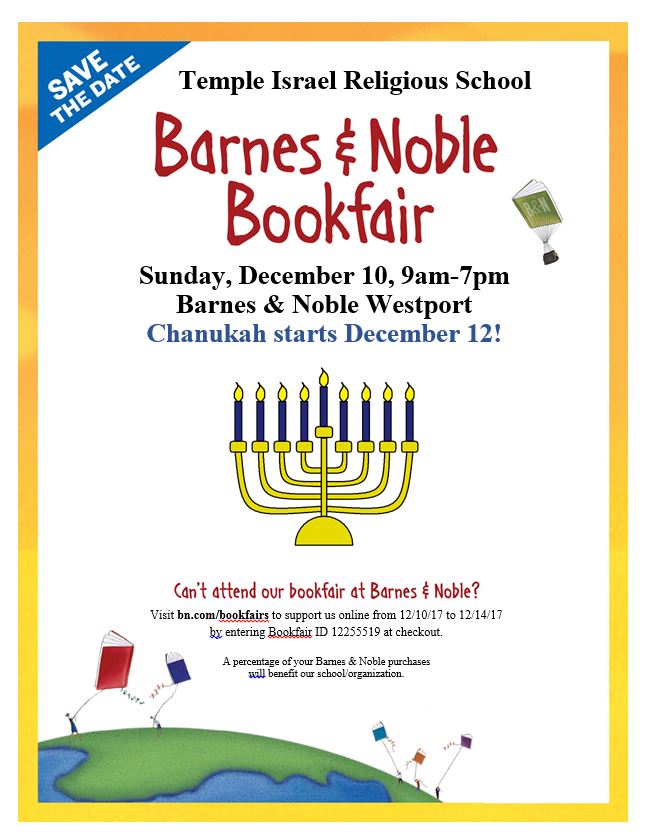 Sunday, December 10 from 9:00 am to 7:00 pm
1076 Post Road East, Westport
Beat the Chanukah rush and shop at the Barnes & Noble Bookfair to benefit Temple Israel on December 10 at 1076 Post Road East, Westport! Fifteen percent of your in-store Barnes & Noble sales will benefit our Religious School. So stock up on books, toys and Chanukah gifts!
Barnes & Noble is open from 9:00 am to 7:00 pm, and our very own Rabbi Michael S. Friedman will be on hand to share a Chanukah story with the children at 11:00 am.
If you prefer online shopping, you can do so and still support our Religious School online from December 10 to December 14 by entering Bookfair ID 12255519 at checkout.
Got extra time? We are seeking parents to help welcome and assist shoppers at the Bookfair table. This is very easy and fun to do with a friend. Sign up here.
We thank you in advance for your commitment to your child's Religious School. Looking forward to seeing you at Barnes & Noble on December 10.